Debate Team prepares for first competition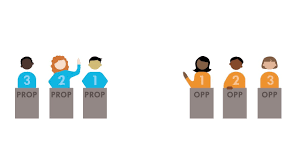 The new Speech and Debate Team is preparing for their first competition.
The Speech and Debate team is a competitive public speaking club where students can choose from a variety of different speeches and debates and present them in front of judges.
"I have done a lot of research, and I have attended some conferences. One of the things that's the hardest to do is scheduling because you have so many events. I help my kids by telling them to make a simple Google search at first to introduce them to their topic. Then they can start pulling research to collect information about that topic. We really focus on the preparation of the content first and then we will work on assembling it later," Mrs. Amy Hayes, sponsor, said.
Sophomore Andrew Soboleski is preparing by researching and meeting with his teammates.
"We have been getting in groups or pairs to research our topics together, usually through a Zoom meeting or in the classroom. Then, we have to research rebuttals and counterclaims to our arguments," Soboleski said.
Sophomore Harlee Newkirk is preparing what she is going to say and researching her topic.
"We go through and research our topics. We think about the specific phrases that we're going to use, and then we think about rebuttals that our opponents could possibly come up with and come up with rebuttals to use," Newkirk said.
Sophomore Christopher Remetta said that preparation for these competitions is the most important factor.
"I have never been in a competition for this before, but I can definitely say that the preparation aspect of it is definitely important. It is sort of like writing an argumentative or persuasive essay because you have to come up with your claims, your evidence, and make sure that you can fight for it," Remetta said.
Senior Sydney Schausten said that debate is different than what people would expect because of the opportunity to research both the positives and negatives to a topic as well as feeling unprepared when starting.
"We also need to research both our negative and affirmative sides so we can know how to tear down our own argument and lift them back up. Also, it's more like, sometimes you can't really prepare for competitions because we have no idea what we are going into. We don't know if we are for or against our topics. We are given the topics, but we don't know where we are standing," Schausten said.
Remetta said that debate is a good way to see both sides of a topic.
"I think that the rebuttal is one of the most important aspects of debate because you have to fight for your cause in more than one way. I think it is good for understanding situations better and having a more holistic view on it," Remetta said.
Schausten said that she wanted to join the debate team because she wanted to argue freely.
"The reason I wanted to be on the debate team is because I argue a lot, and this lets us argue and not get yelled at or go overboard. Debate is more of like a toned down version of how I normally argue," Schausten said.
Mrs. Hayes likes the debate team because of the individuality in it.
"You can do a team sport without having to be worried that you are going to ruin it by getting sick or anything like that. It is a group individual activity," she said.