Winterization scheduled for November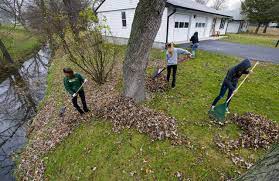 Every year, student volunteers prepare Greenwood homes for winter. Winterization provides a unique volunteering experience that helps members of the community.
"We bring student volunteers out into the community and help senior citizens prepare their houses for the winter," Mrs. Laura Stadtfeld PEER teacher said. "We rake leaves, clean gutters, wash windows, trim bushes, and do anything that they need so that their houses are really prepared for winter."
Members of the community appreciate the hard work students put in to prepare for winter and are excited to meet the students every year.
"One of the ladies that we helped last year told me that she was able to stay in her house only because she had a really nice neighbor who helped keep up her yard and we came in to keep up her yard. Otherwise, she would have had to move out of her house because she couldn't keep up with the yardwork," Mrs. Stadtfeld said. "To know that you're enabling a person to stay in their home that's their comfort zone is just amazing, and they always tell me how thrilled they are to interact with the kids, and to see the kids."
Students who volunteer are rewarded by doing good things for good members of the community.
"I feel like Winterization has impacted me as a student because It has increased my passion of volunteering for my community and my school," Martinez said. "I have been lucky enough that for the last three years of Winterization. The homeowners of at least one house I have gone to provided us with hot chocolate or donuts, which I think is very sweet of them to do that for us."
Not only does Winterization help the community, it creates fond memories for those who participate.
"One of my favorite memories from Winterization was last year when I was riding with Sophia Davidson in her buggy, and on the way back to the school, she rolled down all the windows while it was raining and we were blasting Justin Bieber songs," Martinez said.
Anyone can volunteer to help with Winterization, and it has become a tradition for some students and their siblings.
"I participated last year and plan to this year," sophomore Avery Kraeszig said. "I'm very excited about helping other people and being able to do so with my friends. My favorite part of Winterization is seeing the houses owners' faces when they see their yard after we clean. My brother had participated in Winterization when he went to Greenwood, and he talked about how fun it was. He inspired me to participate, and I want to do it this year because it was so rewarding last year," Kraeszig said.
Winterization will take place on Nov. 13. There is a QR code on the tables in the cafeteria with a link to more information about Winterization. There are sign up papers outside of Mrs. Stadtfeld's room, C118.