Lending a helping hand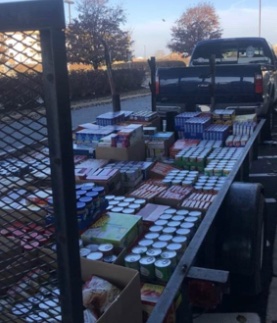 A junior girl stocks the shelves of the food pantry with fresh bread and produce. For the next few hours, she will fill bags with food for families in need.
Helping others can be a rewarding experience and good stories always come out of it.
"My favorite story that I can think of is when we went caroling at an old folks home, and one of the ladies we were singing to was blind. The caroling was a surprise for her so when she heard us, her reaction was to sing with us. She sang all the songs we did, and it was really touching for all of us," sophomore Cami Jones said.
It is understandable that people do not always have time to volunteer. There are other ways to give back.
"If someone is unable to volunteer but can donate, things like coats, scarves, gloves,etc. are needed. As the days go on, the weather is getting colder, and lives for people without shelter is rough. Providing them with warmth and food will make winter nicer and safer for them," junior Breanna Hicks said.
There is no shortage of places or programs to volunteer through. Churches and the school almost always have opportunities.
"A lot of work I have done was coordinated through my church and not through an official organization. Last year for the Student Council, we really liked doing the toy drive through the school, and they were very easy to work with," Jones said.
The Salvation Army is a widespread operation that is seen all over the place helping out in their communities.
"We meet human needs without discrimination. We have so many programs, there are food pantries, after school programs, community centers, Christmas assistance, coat drives, and more," Ms. Stevie Cochran from the Salvation Army said.
The Impact Center at Mount Pleasant Christian Church has options for everyone, too.
"We have a food pantry open two to three times a week. We have many different food pantries that include English, Spanish, and Chin speaking. We envision a community in which everyone has access to sufficient food. Our mission is to create access to good, healthy food in every community and support others in times of need," Steve Saunders from the Impact center said.
Volunteer work is important especially during the winter, and especially during the holiday season.
"During the winter, I think that it is always good to keep the community clean and easy for older people to live. Like when we do Winterization, we are changing their yards, so that they are clean through the winter," Jones said.