Winter formal at GHS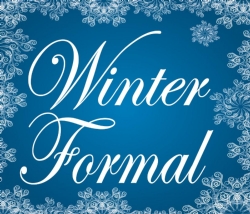 It is official. The Winter Formal will be a time of dancing and fun for GHS students on Jan 22.
The Student Council is in charge of the plans for the dance.
"The formal is winter themed, having a dance in the winter is not ideal but it was the best option due to not having time to have a Homecoming dance. The colors are white, silver, and blue," senior Madi Ramsey, Student Council member said.
The Student Council devoted time to planning the small details for the Winter Formal.
"The theme of the Winter Formal is winter. We chose this because it incorporates the winter part of the dance and the winter themes can be very formal. We are hoping to make it as fun as possible for the student body because we are aware the disappointment with the Homecoming dance," junior Ava Stein, Student Council member said.
The Student Council wants to bring winter to life for the formal.
"The plan is to make the cafeteria a winter wonderland. We want snowflakes and icicles everywhere. Mrs. Allen even joked about getting an ice sculpture. We still are currently thinking of specific ideas for the decorations, but the decorations will not disappoint." junior Nash Peterson, Student Council member said.
The dress code was debated.
"Students should dress as if they were attending Homecoming. There were conversations involving it being cold so longer dresses would be fit, but the longer dresses should be saved for Prom," Ramsey said.
The dance is part of many winter and holiday themed activities.
"Student Council meetings have been hectic. We are planning a Winter Formal, but our main priorities is the 12 Days Christmas. The seniors have the rule over the underclassmen, but they are very good at listening to all of us. The multiple different opinions on the formal have not affected Student Council negatively. Planning a dance is always complicated, and covid-19 restrictions are also a concern," Peterson said.
The members of Student Council find enjoyment in planning dances.
"My favorite part of planning is being hands-on and a part of the action, especially for dances. We can bring what we know about our peers and plan accordingly. Since this is our first Winter Formal it is very important. It is great to be a part of everything, especially an event like the Winter Formal which will bring the student body together," freshman William Pruitt, Student Council member said.
Peterson agreed.
"The feeling of accomplishment when planning a dance is special. It takes a lot of effort from the Student Council to put together a Winter Formal. Even the small details matter. Mrs. Allen and Mrs. Senac are also a great help. They remind us to keep things simple and not go overboard. A dance for the student body is always found to be worth it because of the smiles and laughter we get to witness at the dance," Peterson said.