New Adele album surpasses expectations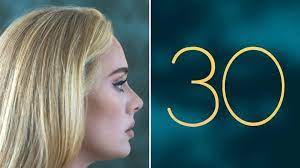 Adele's new album, 30, expands on her already amazing skills. Her new release is emotional and intimate and absolutely worth the listen. 2021 has supplied us with amazing albums every month, and Adele's is one of the best.
The album starts with "Strangers By Nature," which is a beautiful lament about Adele's past loves. It establishes the theme of the album. Adele said the album was about divorce, and that theme is prominent. The third song, "My Little Love," has an audio clip of Adele explaining the divorce to her son. The song finishes with Adele saying that she feels lonely and is worried she will feel lonely a lot.
As the album goes on, the songs take a more upbeat turn with "Cry Your Heart Out," "Oh My God," and "Can I Get It." They change the tone of the album and take a more hip-hop/pop approach rather than a jazzier approach.
Adele returns to a jazzier, ballad sound in "Woman Like Me" and "To Be Loved." Each song is beautiful and explores Adele's ability as a singer. "To Be Loved" is one of my favorite songs on the album. The piano and vocal duet give the song an intimate and deeply personal touch. The song is Adele reflecting on her past love life and regretting how she handled the relationships. The song sounds like an apology to herself and those affected. One phrase that keeps appearing is "Let it be known that I tried." The vocal performance is raw and imperfect. She deliberately left in the voice cracks which only gives her more credit as a singer. I get chills every time I listen to the last line because of how well it is written.
The album cover is a picture of Adele from the side. It is the first album in color since her first album, which could symbolize a new beginning or a fresh start. She ends the album with the song "Love Is A Game." She says that "love is a game for fools to play, and I ain't fooling." It sounds like the closing scene to a movie, which is fitting for an album. It reminds me of Aretha Franklin in a way. The cinematic ending helps with the overall cohesion of the album. While the song still feels like Adele is hurting, it is done with so much grace.
The album is worth the listen and definitely one of the best albums of 2021. There is not a dull moment in the album. Every song is deep and meaningful, and the lyrics can be analyzed in infinite ways. I enjoyed this album and would recommend it.