fortnite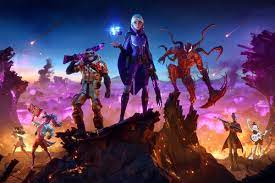 Debatably the biggest and most popular game in its prime, Fortnite, is making a comeback as people are getting back on after recent changes to the game.  
A big reason people stopped playing fortnite was the toxic community  on the game.
" Yeah, I think Fortnite is much better than it used to be. The creators really listened to what the community was complaining about and really took it into consideration on how to make the game better. The Fortnite community has also been way  less toxic which has made the game much more enjoyable. It also has made the game to be played how it is meant to be played, not professionally," sophomore Dominic Soubeih said.
Everyone has a reason they want to start playing a game or like a game. Junior Jackson Kidwell's reason was all of his friends. 
"I have never really played a battle royale game like Fortnite before. The main reason I started to play was because all my friends were constantly playing it and asked me if I wanted to so I gave it a shot. It turned out to be really fun and I'm glad to see it is making a comeback. Iit brings back a lot of good memories with me and my friends," Kidwell said
After the recent update, fans are very excited.
"Fortnite just added back Tilted Towers which is the biggest and best location in Fortnite ever. They also added back the grenade launcher which is an OG gun. They also added these new things called Klombos which are dinosaurs that just roam around the map and do whatever they want, it is all really cool stuff," Maverick Pauley said.
Some people used to be really good, but lost all their skill after not playing for a while.
"I used to play fortnite all the time. Me, Dylan Pringle, and Clayton Barret used to tear it up back in the day. I stopped playing because they kept adding too much new stuff and It just got annoying. But I heard they added some old stuff back and ther game looks pretty fun again. I hopped back on for a game or two and it was still different, but it was pretty fun." junior Juan Valdez said.
Junior Conner Chase stated his opinion on the return of Tilted Towers.
"Tilted used to be the go-to spot for any good Fortnite player. I used to always land there and if you win tilted you will leave with 6-7 kills and god tier loot. If you aren't good at the game it is hard to go there because that is where all the sweats go. But I am really excited that it is back. I landed there and there were at least 50 people there it was crazy," junior Conner Chase said.