Students collect vinyl records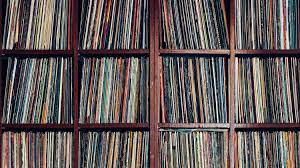 Collecting vinyl records is a hobby shared by casual music listeners and phonophiles alike.
Within the record-collecting community, it is well known that everyone remembers the first record that came into their possession.
"I've been collecting since my freshman year," senior Conner Watson said. "My aunt got me a record player for Christmas one year, and I've been stocking up since. My first record was The New Sound of the Fabulous Ink Spots."
When it comes to a good record collection, the name of the game is value, whether fiscal or sentimental. For some, records accompany memories and can remain special to a person for a long time.
"I'd have to say my favorite record is this little indie group called Mt. Joy's first album," Watson said. "They've been my favorite band for a while now, and I've got good memories of lying on the floor and listening to them."
In a day when anyone can stream any song on the internet, vinyl records seem impractical, especially when they require proper storage and cleaning in order to maintain sound quality.
"I'm more of a casual listener," Watson said. "I treat my records way worse than they deserve. I feel like some people, including myself, don't like letting go of the old world. There's something kind of indescribable about listening to music as it spins on the player rather than just another one of the millions of songs whatever music streaming service can pump out."
Senior Will Riche takes a more serious approach to storage.
"I have vinyl covers for each of them, and I use a special brush to clean them off before I play them. I also have a cleaning kit that I have but don't use that often because most of the records aren't super dirty," he said.
Riche continued.
"I've been collecting since about freshman year, and the first one was Abbey Road, which my parents got me for my birthday in 8th grade. My favorite is either Solo Flights by Chet Atkins or Tiger in the Rain by Michael Franks. I can't choose," he said.
Since vinyl records have been a relevant way of listening to music since the late 1940s, a lot of collectors seek out original pressings of classic albums. Others prefer the more developed sound of modern record pressings.
"I guess I prefer new pressings," Riche said. "I have quite a few older ones, and most of my favorites are older, but I have a majority of newer pressings. I don't think they will ever be obsolete as long as more music is being made. I think the best way to think about vinyl is as Pokémon cards with music. It's about growing a collection but at the same time listening to vinyl can include sound qualities that can't be found in digital music."
Freshman Noah Durham has been collecting since 2017 and started with The Carpenter's self-titled album.
"My favorite one is definitely All Above, Nothing Below by Death Spells because the printing on the records has a super cool design," Durham said.
Many collectors have similar mindsets about whether or not vinyl is obsolete. Many believe it is not about playability and more of the experience of an artist's masterpiece in a physical form.
"I don't think they will be obsolete since there has been such a resurgence lately. I think it's special to have a record or even a CD because you bought something to support an artist," Durham said. "Having a physical copy just has more meaning unlike something being online. I like to compare it to concert tickets in a way. It's better to have a physical copy of your ticket because it just feels more special."