Hollister, Vintage stores open at mall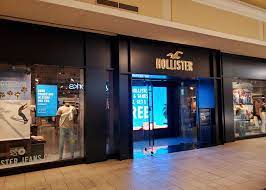 The automatic doors open on their own, to the roar of happiness from the people, the smell of food from the food court, and the valley of clothing stores.
Down one valley of clothing stores, there is one in particular that is making a comeback, and that store is Hollister. It is very hard to miss with the distinct blackout walls, the glass doors and the giant screen. Hollister had been gone for a couple of years but returned to the Greenwood Park Mall just recently.
Junior Micah Vessely said, "I think it's good that Hollister is back. A lot of people love the store and love what they have to offer. I even own a few Hollister shirts myself."
Bringing back Hollister to the mall is going to be very profitable for the company, without a doubt.
Junior Brevin Winger, an employee at Hollister, said, "I think Hollister coming back to its original location will help bring in more customers than before, and I think that it'll help bring in more money for our branch. When people come by and see the fancy-looking doors and the screen playing a video to promote our store on it, it can really intrigue the customers' minds and get them into the store and see our products."
There are plenty of stores in the mall that have great clothes.
Sophomore Leah Beaman said, " I have shopped there multiple times before, and they have the best back to school pieces to choose from which follow the dress code. Plus, their sweatpants are the best."
Being an employee at Hollister has advantages..
Winger said, "I love working at Hollister. I have another job at the moment, but I'm looking to work here full time. It was great right before school because I got to have a 50 percent discount on all items I bought because I work there. The environment in the store is amazing; it just feels like you aren't even in a mall anymore. There are so many people that come in and out of the store it would be so hard to count."
When the store closed the amount of people wearing Hollister apparel went down.
Beaman said, " I think Hollister coming back will bring back a lot more customers. A lot of teens love to shop there, but once it got taken down, I haven't seen many people wearing Hollister clothing. Now that it is back, I see it all the time."