Woodmen football Sectional preview
GHS football is notorious for their enhanced play as playoff football looms near. Woodmen football has had somewhat of a down year with a 1-8 record (0-7 Mid-State) with the lone win being a 35-7 rout of Seymour in the season opener.  
With Sectional action against Martinsville, the team has honed into the every team being 0-0 montra. Going 1-0 each week has been the team's motto for the past week. 
"We really believe in the fact that when the playoffs get here, everyone's record resets to 0-0," junior linebacker Cooper Smith said. "We know that they had a better regular season record, but at playoff time, they're one win away from moving on or going home just like we are."
The Woodmen and Artesians met in the third game of the 2022 season. The Artesians came out firing, moving the ball down the field through the ground game and some explosive passing plays in the first half scoring 21 points.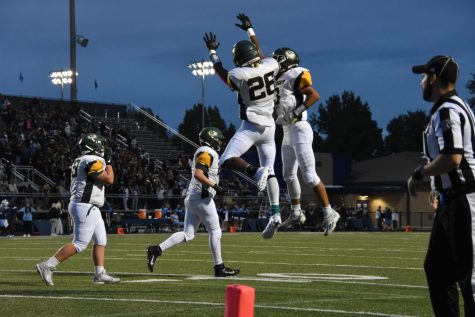 "They have a lot of really good athletes on offense and even defense too," Smith said. "They came out against us guns blazing and running it down our throats and hit us with a couple big hitters down field. We need to play tough up front, and our defensive backs are all talented guys that play their positions well. We need to play the best we have all year to contain all their guys."
The air game of Martinsville's senior quarterback was dangerous in the early September meeting, throwing 11-21 for 224 yards, two touchdowns and a game-long 70 yard touchdown pass to put the game on ice in the 4th quarter.
"Their guy can really sling it," junior safety Tanner Crouch said. "He has a strong arm and can squeeze the ball in some tight windows. We have really improved throughout the season in the secondary, and I think we can try to make him take some bad throws and get some turnovers. I think that can be a difference maker in the outcome." 
Looking at game stats from the Week 3 game, the Artesians committed nearly 10 penalties resulting in 70 total penalty yards. In order for success, the Woodmen need to take advantage of the mistakes made.
"They committed a lot of penalties in the season game," Crouch said. "They definitely gave us a lot of chances on both sides of the ball, gaining yards and pushing them back on defense. We have to take those chances and come up with stops and big plays to keep the momentum going our way. Since then, they have cleaned up and aren't committing as many as they were then."
Woodmen football has had a season of struggles and has played tough teams. Being in the Mid-State since 1942, this is nothing new. The Top 5 teams in the conference are all above .500 in conference and all but one are above .500 on the season.
"I think we play in a top 3-5 conference in the state," senior wideout Ethan Pringle said. "After the MIC and HCC, we have a really tough slate. Mooresville and Whiteland, both top teams in 4A and 5A, Franklin, another dominant 5A team, Decatur has always been really good and Martinsville being Whiteland's only loss. Every team is tough, and every team plays hard football. Our conference puts up a fight against top teams from around the state every year in the playoffs." 
Togetherness and playing as one unit has been a focal point for the defensive squad. Playing together and everyone doing their job are important for them to be successful.
"We really just need to play as a unit to be successful," junior lineman Gabe Folco said. "If everyone focuses on their job and gets it done, we can be successful. We have to stay positive and not get down on ourselves so easily. On defense, if we give up a big play, we need to be able to recover and keep playing."
The Artesians and Woodmen face off on Oct. 21 in the opening round of 4A Sectional 23 at 7 p.m. in Woodmen Stadium