Valentine's Day – Fine Dining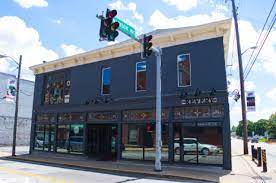 There is a great selection of restaurants in downtown Indianapolis. With Valentine's Day coming up on the calendar, a nice restaurant would be great for a date.
There are a select few that stand out to students.
Freshman Landon Vaziri said, "My favorite restaurant out of all the ones that I have been to has got to be Tony's. It has such a great environment. They have very calm and relaxing music playing in the back. And, they also have a lot of nice furniture to make it very well-decorated. The food there might be some of the best I have ever had. The steak may be expensive, but it is worth it."
There is a very nice restaurant in downtown Greenwood, Revery.
Junior Luke Smith said, "It's a high end restaurant in downtown Greenwood. That makes working there even better because the tips are always higher. But there's two bars in the restaurant that make it not have to be too formal. Working there, you get to know a bunch of new people and all types of cultures there. We are like a family. We have multiple regulars that come in a lot and we treat them extremely great. They've become like friends, and sometimes they even bring the workers gifts."
When it comes to more expensive restaurants, the steaks can bring in customers, especially at Ruth's Chris.
Sophomore Isaac Apgar said, "My favorite fancy restaurant is probably Ruth's Chris because I love steak. My favorite meal is filet mignon. I think the prices are very expensive, but it's probably one of the best steaks you can get your hands on, and you get excellent service when you dine there, so it kind of makes up for the high prices."
The menu at St. Elmo's is likely to be overwhelming.
Junior Kenna Hussung said, "My favorite meal at St. Elmo's has got to be the chicken and potatoes. Normally when I think of chicken and potatoes, I think of like a colorless and bland tasting meal. But when I went to St. Elmo's, the chicken was so soft and well-seasoned, and the potatoes were not dry at all."
Having a favorite restaurant is great, but having a backup plan just in case the wait is too long is important.
Apgar said, "If I had to pick a second restaurant to go to, it would have to be St. Elmo's. I mean if you haven't gone to Ruth's Chris before, then I would highly recommend that because that would be number one on my list. But St. Elmo's is just like your classic fancy and expensive restaurant; it is so good, and the service is amazing as well."