Boys basketball Senior Night
The boys basketball team is preparing for their Senior Night matchup with Hoosier Heritage conference member New Palestine.
The seniors have been reminiscing about the four years they have spent on the team. 
"My most memorable moment was beating New Pal my junior year," senior guard Noah Apgar said. "We were all really hype in the locker room because it was a really big win for us."
Over four years of playing high school basketball, there are a lot of plays and games that stand out. But every player has a favorite.
"My favorite play was getting a steal in the County Tournament," Apgar said. "The steal led to a big basket so it was really exciting for me." 
Having drive and determination stands out to coaches.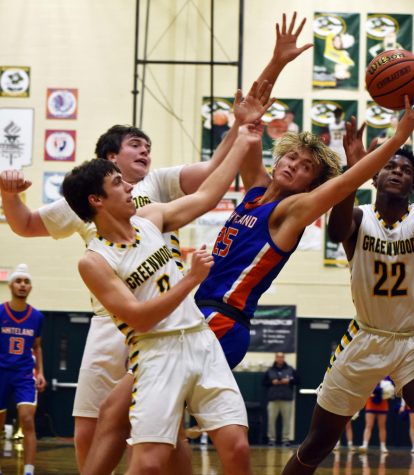 "I think something that really sets this group apart is that they have a true determination about themselves," Coach Joe Bradburn said. "They really compete every day and have a desire to compete."
Having older and more experienced players on a team makes it easier and even more fun to coach. Coach Joe Bradburn said he has that group of guys in his seniors.
"Their desire and willingness to compete makes it fun at practice," Coach Bradburn said. "They play hard and go about their business with intent. I think they really show what it takes from an effort standpoint day in and day out. They bring the intensity when needed and it influences the younger guys to work just as hard. We have a motto we go by 'Deserve it Every Day' and these guys really embody that."
Influencing and mentoring the underclassmen is an important part of being a senior on a team. 
"The seniors have influenced me and taught me how to play hard and aggressive on defense," sophomore guard Cade Kelly said. "They show all of us how to play hard all the way through games. The effort they give in games and practice shows us younger guys how to play hard all the time."
Being able to focus and still be loose in the locker room is a special factor that brings teams together.
"They're able to let loose a little in the locker room still after working hard at practice," Coach Bradburn said. "They're able to bring it to practice and then turn it around in the locker room hookup to the stereo and enjoy their time together. They bring a good balance to our program and we feel like that's something that is really important to us."
Coach Bradburn said the ability the guys have to focus when needed is a trait that sets them apart from other groups in the past.
"To go along with our Deserve it Every Day motto, we break it down to that at the beginning of every practice," Coach Bradburn said. "It's about going to work and doing your work and your job every day."
The experience of having older players on a coaches roster helps to win and compete in big games.
"We are in a position where we can win every game," Coach Bradburn said. "It's the biggest impact they make on us. The efforts and attention to detail helps us participate in every game."
Defense is a major point in Coach Bradburns system. Playing hard defense and not giving up many points is a characteristic of all of his teams.
"We compete really hard defensively and it keeps us in almost every game we play," Coach Bradburn said. "We are still working on our offensive skills and togetherness to bring up our game and fill it out."