Fall Activities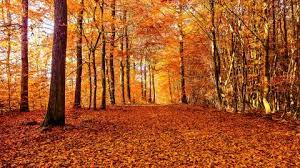 Fall is the best season of them all.
One major event that happens in the fall is Halloween, and one activity that goes along with Halloween is going to haunted houses.
"Hanna Haunted Acres is the haunted house I went to. I was so scared I had to hold on to my friend's mom the whole time. All of the jump scares and chainsaws freaked me out," sophomore Isabelle Reynolds said.
Halloween-themed movies are also popular in the fall. Junior Daniel Prior's favorite Halloween movie is Hocus Pocus.
'"It is really entertaining, and there are a lot of good family memories associated with it. My favorite part of the movie is when the witches sing I put a spell on you," Prior said.
Reynolds also enjoys Hocus Pocus and has been watching it since she was very young.
"I have watched Hocus Pocus almost every year since I was little. I like Hocus pocus a lot because it is more of a funny movie than a scary movie," Reynolds said.
Freshman Jackson Frahm likes the movie Hubie Halloween.
"Hubie Halloween is a Netflix movie that came out a few years ago. It is my favorite Halloween themed movie because it has good humor and has a really good plot twist at the end," Frahm said.
Sophomore AJ Sheets prefers scarier movies over funnier movies.
"My favorite Halloween movie is Halloween Kills because it is graphic and there is a constant thrill when Michael Myers attacks. My favorite part of the movie is when Michael is trapped in the basement when the house is on fire and he gets out and kills all of the firemen," Sheets said.
Another thing that many students like about fall is the weather. Prior likes to go hiking to look at nature.
"My family likes to go camping and hiking in Brown County. The fall leaves and weather make it hard to stay inside," Prior said.
Sheets uses the fall weather to hangout with his friends.
"The fall is a great time to hangout with friends. The cool weather is perfect for hanging out outside and playing sports. My friends and I like to play backyard football, even though sometimes they get really competitive," Sheets said.
The fall weather is also nice for visiting apple orchards and pumpkin patches.
"My family goes to Apple Works every year. We usually get pumpkins and then carve them as a family later in the day. My favorite pumpkin that I have carved was when I carved the laughing emoji into the pumpkin," Reynolds said.
Costume contests are also a fun part of Halloween.
"One time me and my baby cousin won a costume contest as a flower and a gardener," Reynolds said.