Fall Fashion
Fall trends come and go, but flannel is forever.
Flannel jackets and long sleeves have been in style for the last decade.
"Clothing that I am still wearing from last year would be my leggings and jeans. This year, I love wearing cute jackets over my shirts to add a little more to the outfit. I would say the biggest trend of fall would be wearing flannels. Everyone sees flannels as a fall essential, and they can be worn in all kinds of different ways," sophomore Emma Holman said.
Styling does not have to be complicated. Finding simple alterations to classic fall outfits can elevate the look. One of the benefits of fall fashion is that it can be as simple or as complicated as the wearer wants to make it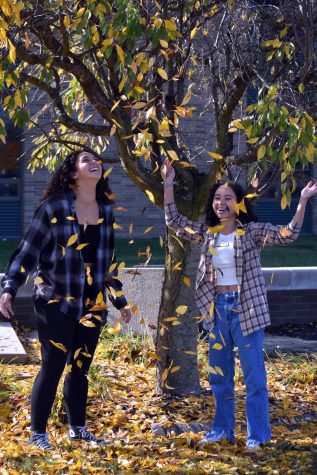 "I think an essential casual wear and dress-up item is leggings and my favorite fall brand is Doc Marten. I really like this brand because I love wearing my Doc Marten boots during the fall, and they go with so many different things. Depending on what you want to wear that day, you can dress up in leggings or wear a casual outfit. I also like to wear necklaces and bracelets every day," sophomore Celia Stanley said.
One of the best fall fashion items is the simple Ugg boots that have circulated as a trend for years. Another great fall staple is classic sweaters. However, spending a lot of money is not the only option; thrifting can be a budget-friendly alternative.
"One of my favorite fall footwear items is Uggs because they are really comfy and warm. However, I also like to thrift because I like vintage clothes and you can find that pretty cheap thrifting. I like to wear oversized clothes that are warm. I also still have a ton of sweaters from prior years that I wear," freshman Atley Jacks said.
Birkenstocks have been trending for the last decade; however, in the past Birkenstocks have always been worn along with summer outfits and accessories. With the Birkenstock Boston Clogs coming into style, Birkenstocks are resurfacing in fall closets. Another fall fashion footwear trend that has surfaced this autumn is the Tasman Ugg Slippers, a cozy option for the cold winter months. And of course, a good pair of black leggings can elevate any outfit.
"My essentials for casual outfits are leggings and my Ugg slippers. They are the best when I'm running late or I don't feel like dressing up too much. In my opinion, the biggest trend in fall is Birkenstock Boston clog because I feel I've seen them everywhere and they go well with everything. New fall trends I've purchased are sweaters and again, the Ugg slippers," freshman Sophia Hignite said.
While new clothes may be in better condition than second-hand clothes, sometimes thrifting can be the more cost-effective option for some as well as being an eco-friendly way to shop for new clothes. Adding to fall fashion closets does not have to be expensive; it can be cheap to shop secondhand and is also a fun way to find vintage clothing that may not be available in mainstream stores.
"My favorite brands are PacSun, Wrangler, Levi's, and Carhartt because they make comfortable clothes that are really high quality. I also really love thrifting clothes because it's fun to look through everything. Sometimes, you'll find something really cool, and it's much cheaper than buying stuff brand new," sophomore Quintin Cain said.