Perfect North perfect for adventure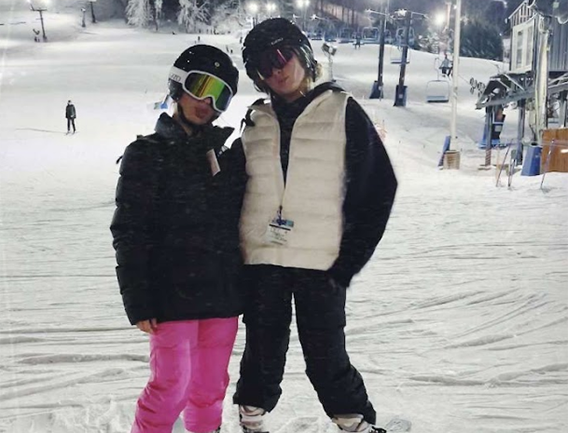 Perfect North Slopes awaits visitors up for adventure. Just an hour and a half drive away from Greenwood, Perfect North Slopes offers skiing, snowboarding, and snow tubing.
"The really amazing views while on the slopes are awesome. It is really fun to bring lots of friends. Perfect North is great at keeping the slopes organized so everyone can have a great time with no worries," junior Mallory Mahin said.
With 23 available runs, Perfect North includes many options for beginning and experienced skiers and snowboarders.
"I like that Perfect North is relatively close and offers a wide variety of hills. My favorite thing about skiing is the adrenaline rush that I get when going down the hill," sophomore Ben Riche said.
Snowboarding appeals to those seeking adventure and excitement, too.
"My favorite thing about snowboarding is going as fast as I can and trying new things. I wanted to snowboard because I saw snowboarding videos on TikTok," sophomore Alex Baugh said.
Skiing is both relaxing and exciting. Senior Blake Roscoe has skied at Perfect North Slopes and mountain ranges out west.
"My favorite thing about skiing is feeling the snow as I carve down the mountain. I also love the feeling of completion that I get when I ski all the way down a big mountain as well as the speed that I get on some runs. The hardest run I did was the Silverado Bowl in Park City, Utah. The run was near the bottom of the mountain so the snow was not the greatest, but the run was very steep and narrow while also having large moguls," Roscoe said.
Owning equipment is not necessary to try skiing or snowboarding. For $32, Perfect North Slopes visitors can rent everything they need.
"I like Perfect North because they provide quality rentals and the people there are respectful. They have many slopes to ski on," sophomore Jake Squier said.
Perfect North Slopes has five chair lifts that each carry between three and four people.
"My favorite part about Perfect North is that there is a lot of ski lifts, which balances out the lines, making there lots of access to the hills," sophomore Carter Chatham said.
The facility offers lessons, too.
"What made me want to snowboard is seeing people flying down the hill and doing tricks in the air, which really made me want to learn how to snowboard. I first learned when I was about 10 years old when I got lessons from the ski instructors at Perfect North," said Chatham.
Perfect North Slopes is located at 19074 Perfect Lane Lawrenceburg, and is open 9:30 a.m. to 9:30 p.m. Sunday through Thursday, and 9:30 a.m. to midnight on Fridays and Saturdays.