Cross country to revenge Semi-State loss
After falling short of their semi-state aspirations last season, this year's team is anxious at another chance to accomplish that goal this season.
"My main goal for this upcoming year is to be able to move on as a team all the way to semi-state. We were unable to accomplish this last season, and I believe that we have the team this year to do it," senior Caleb Worgess said.
With most of the core back from last season and a talented incoming freshman class, the Woodmen are expecting to be a more compelling team than the previous year.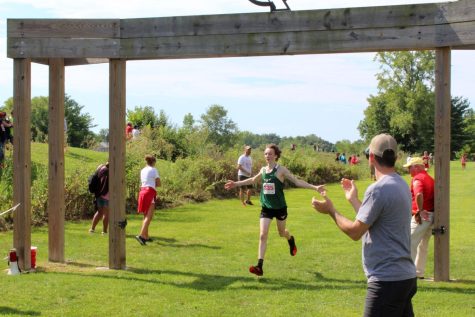 "I want everyone to know that we will be a threat this season. We are stronger than we were last year and closer as a team. I think we have some strong talent in freshmen Jackson Frahm, Grady Havens, and Zach Penn," senior John Gries said.
The addition of two new coaches have been significant in the growth of the team this summer.
"Both of our coaches, Coach Nuhfer and Coach Mushrush, have brought positive impacts not only with their backgrounds, but also with their overall knowledge of what to do with individual runners. For Coach Mushrush, I like the fact that he coaches long distance track, so he has the connection that you would want with your runners. Coach Nuhfer ran cross country and track in high school and college at Purdue, so she has the levels of experience that you would like to see in a coach," Worgess said.
The team looks to build on their confidence tomorrow morning at 9:30 a.m. in the Golden Spike Invitational at Decatur Central.