Boys basketball takes on Speedway tonight
The boys basketball team will face off in a non-conference game tonight against the Sparkplugs of Speedway. The Woodmen look to repeat their victory from last year in tonight's matchup.
With an extended break between the Columbus North game and tonight, the team has been able to focus on fine tuning their offensive schemes, specifically improving getting the ball into the post to their forwards. 
"We really have been trying to work on getting the ball down low," sophomore Ethan King, guard said. "We have been playing well around the perimeter, but if we can work the paint too, the offense will be more rounded out."
Stout defense is a characteristic of every Joe Bradburn coached team. Improving on their switching defense has been the focal point on the other side of the ball.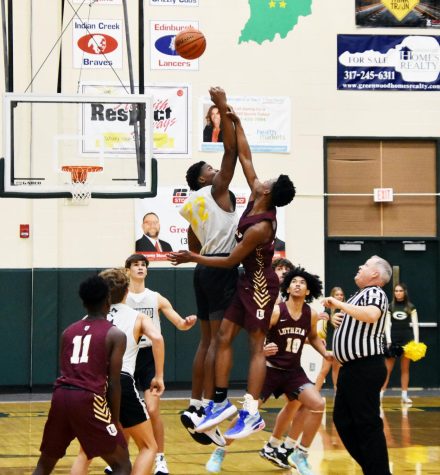 "Our biggest thing with Coach Bradburn is defense. He's always been a defensive minded coach," King said. "Every day at practice is a guaranteed defensive day, and we recently have been working on our switch defense a lot. Coach Bradburn really believes that we can never be too good on defense."
Last season Woodmen hoops went to Speedway and battled them on their home court to a 47-45 win. The game was physical and hard fought for the visiting Woodmen. The Sparkplugs will look to come to the Woodshed this year to give them a taste of their own medicine. 
"Last year was extremely physical," junior Cade Kelly, guard said. "We battled all game with them, and they play tough defense and run a really good offense. We know they have a sour taste in their mouth because there was some taunting after the game and during from both sides. We took a picture in front of their media wall. They definitely remember it and did not like it."
Staying in shape is a major factor to be able to win games early in the season. Being able to play with quick teams is a deciding factor in whether or not games stay close. 
"They play fast and uptempo all game," Kelly said. "Playing fast teams is difficult because of how quick they are on the transition. Being able to run with them is important for us to not give away any break-away plays."
Speedway's leading scorer last season returns again this year. The 6'5 wing scored 17 points with five rebounds and three assists. Woodmen basketball plans to shut him down more and commit more turnovers this year.
"No. 3 for them last year was a really good ball player," Kelly said. "He scored from everywhere on the floor and was just overall a really athletic player. If we can force mistakes from him, then we should be able to repeat and beat them again this year but at home. Winning at home is the best feeling ever. We need everyone to come out and be loud."
The Woodmen will take on the Sparkplugs tonight on the Woodshed hardwood at 7 p.m.