Aesthetic coffee shop opens in Downtown Greenwood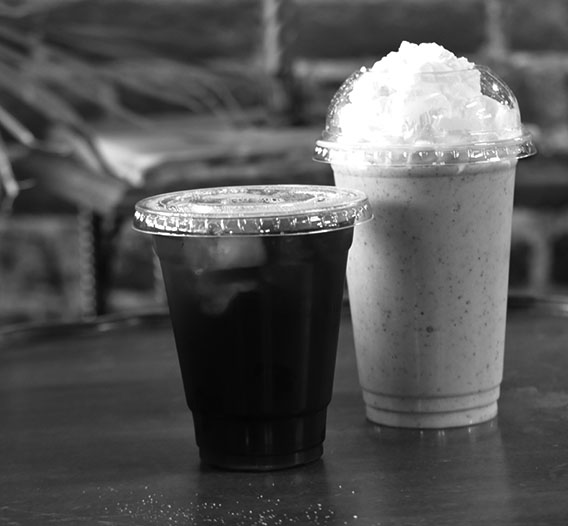 Fresh Pots Coffee Bar features fresh pots of coffee as well as fresh greenery pots.
A new coffee shop, Fresh Pots Coffee Bar, and has become a new local favorite since. The shop features expresso, tea, hot cocoa, smoothies, matcha, and other specialty coffees with as many as 25 different flavor add-ins. The shop also features an assortment of bagels and muffins with as many as 10 different flavors of each. The shop also sells coffee mugs and house plants uniquely planted in the shop's signature mugs.
The decorations feature a vintage style with a modern take. With vines hanging from the ceiling, vintage furniture in an assortment of colors, and a stunning wall of unique detailed paintings, the shop is truly like a scene from a Hallmark movie. The peaceful environment makes a perfect place for students to do homework and study.
Although having a stunning environment, the coffee and tea deliver the most impressive qualities to the shop for an incredible price. Coffee is as inexpensive as $4 for a large which is comparatively cheap compared to the prices of Starbucks and Dunkin' Donuts.
I personally do not enjoy coffee; however, at Fresh Pots, I thought the caramel coffee was sweet and rich yet the sweetness of the caramel did not overpower the taste of the coffee. My personal order is a vanilla chai tea latte and is the best chai I have had at any local coffee shop, or even any Starbucks. The coffee bar unlike many other coffee shops serves smoothies too. The smoothies are made with fresh strawberries and bananas unlike many smoothies served at other locations which are made with artificial fruit flavors and syrups.
The new coffee shop serves as a perfect opportunity to visit a cute shop and enjoy delicious drinks.