Zooming into the girls track season
By Deiana Forde, Gillian Semmler & Ali Skirvin (Journalism 1 students)
They are fierce, determined, and sprinting toward the stars; GHS' women's track team leaves a trail of fire on the track with each step they take.
Junior Amy Luttrell tells her expectations as an experienced pole vault jumper for the upcoming season.
"I expect our team did really good last year, but this year we have many more people than we did last year. Like, we have more numbers, and we have more opportunities to win," she said.
She provided insight on what courses through her head before she competes in a meet.
"I'm just thinking about trying to beat my personal best. I'm just thinking more about how I can improve myself and not really focusing on other people, Of course, I'm being competitive, but I'm mostly just competing against myself," she said.
Luttrell talked about her first experience with track.
"I started in sixth grade. Then, I did sixth and seventh grade track. Then, we couldn't do it eighth, but I still do it now so freshman, sophomore, and junior year," said Luttrell.
The women's track team holds a plethora of girls in different grades and categories. Senior Lily Hommell talked her expectations for this season from the perspective of an experienced long jumper.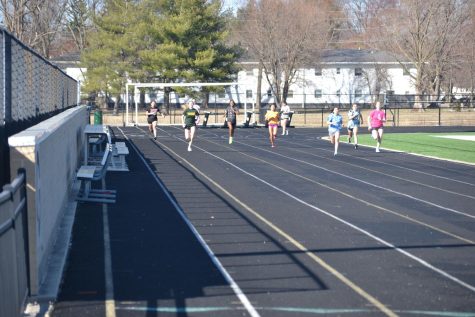 "My expectations are really growing as team because it's my senior year and I feel like the team work and the environment needs to be really good. I expect to like work on the environment part and as a team just pick each other up," said Hommell.
She also started her track and field career in sixth grade.
"I've been running track since about sixth grade, so I'd say seven years of that. I really developed a love for track in eighth grade when I tried out for high jumps, and so I've just lovde it every since," she said.
She participates in several events during meets.
"I compete in high jump, and I also do the 400, 4×4. Sometimes, I do a little sprinting," said Hommell.