IU blows Purdue out of the water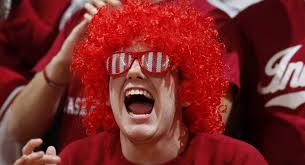 There are many reasons why Indiana University is the premier college in the state of Indiana, particularly when compared to Purdue University. 
Indiana blows Purdue out of the water when referring to their athletic programs, and Indiana provides a diverse range of academic options.
Both universities have their strengths regarding academic programs. If a student wants to become an engineer or astronaut, then Purdue is the place to be; however, IU has multiple programs that are ranked No. 1 in the nation and others that are in the Top 10 nationally. These programs include: environmental policy, social psychology, music, nuclear physics and foreign languages. 
When referencing the history of both athletic programs, IU has experienced much more success than Purdue. With nearly 114 Big Ten championships spanning over all collegiate sports, Purdue has accumulated a large number of Big Ten titles, though these numbers do not compare to the 150 Big Ten titles that Indiana has earned.
Thinking that Purdue has much more success on the national level is rather ignorant. The Boilermakers have racked in a whopping three national championships in their existence. These titles were earned in 1999 for women's basketball, 1961 in men's golf, and 2010 in women's golf. Purdue fans would also probably prefer if their 1931 national co-champion football team and their 1932 "presumed" men's basketball national championship team were recognized as well. 
Extending to much larger success, Indiana has secured a total of 24 NCAA championships. These titles were earned in men's cross country, men's soccer, men's basketball, men's swimming and diving, men's wrestling, women's tennis, and men's outdoor track and field.
If it has not already been proven that Indiana is a superior overall university when compared to Purdue, then a visit to each campus will seal this argument. Purdue's campus is located in an urban area and does not give off a college town feel. When visiting Purdue, any person will immediately be surrounded by boring brick buildings. These buildings reminded me of something I created as a child using legos. They are all very basic and the architecture is subpar, but there are many solid restaurants scattered throughout the campus. These include: Nine Irish Brothers, 8Eleven Bistro, and Triple XXX.
For anyone lucky enough to take a trip to Bloomington to visit IU, there are many great things about the campus. The limestone buildings that make-up most of the academic buildings are unique eye-catchers and homage to a local national resource. These buildings all have a beautiful architectural design and are placed amid the hills of southern Indiana. The campus has a true college town feel with excellent local restaurants and students out across campus all the time. The food choices provided at IU do not get any better at any other university with Nick's English Hut, Mother Bear's Pizza, and Buffalouies, which is rated one of the Top 10 wing joints in America. 
In conclusion, Indiana University is the superior college. IU provides its students with a wider range of academic programs, a tremendous amount of athletic success at the Big Ten and national levels, and a beautiful campus with a college town feel. Purdue University has been and will continue to be the little brother to Indiana University.